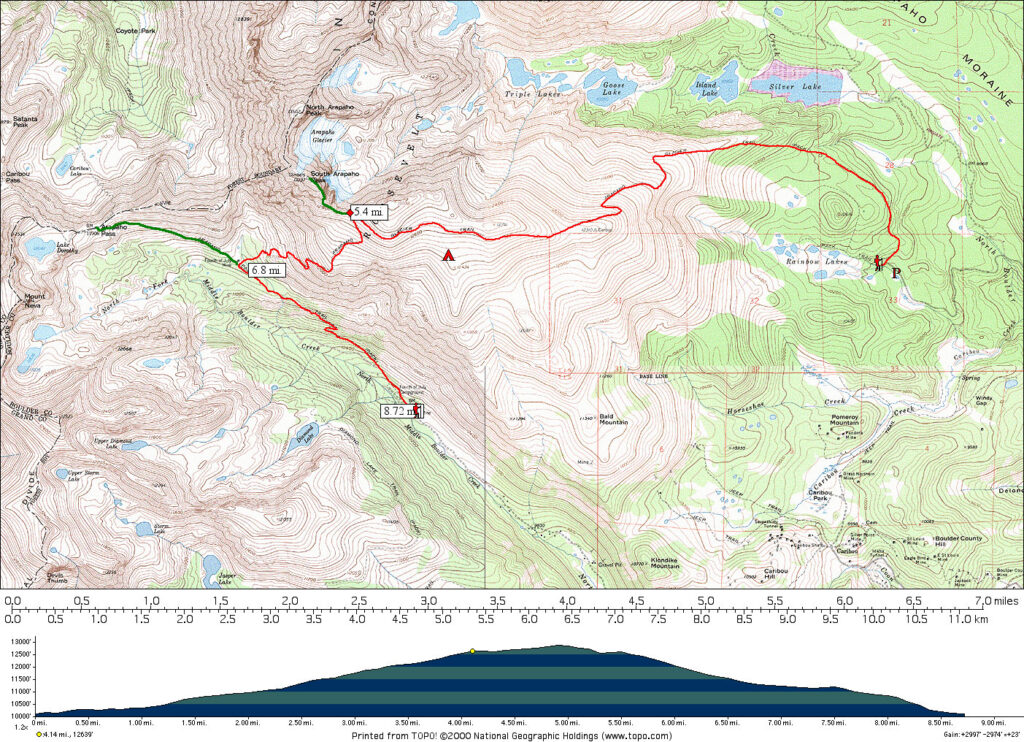 Flickr album for this trip is here:
This was a little backpacking trip in the Indian Peaks Wilderness area of Colorado. I'd already hiked much of the same area the previous year, that is the area up to and including the summit of South Arapaho Peak from the 4th of July trailhead. I would leave my truck at the 4th of July trailhead previous to my trip, then make a loop from Rainbow Lakes trailhead up to Arapaho glacier, then down to the 4th of July trailhead. Basically up one side of a mountain range and down the other. I assumed this would be rather easy since the hike looked fairly short on the map, and not too much elevation gain/loss. I planned to overnight above timberline for a change, just to do it, and hike around and photograph from the summits of Arapaho Peaks North and South.
Most of these photos were scanned years ago and are in low resolution
On Wednesday afternoon, I drove the long unpaved road to 4th of July trailhead, parked my truck, got my bike out of the back and rode it all the way back through Hessie, then to the cabin near Nederland.
The ride was a beautiful one, about five miles or so mostly down hill. At the cabin, I checked my pack and equipment. I was going relatively light this time; a small pack, and no tent. Also, I had not gotten around to purchasing the dehydrated dinner as I had intended in Austin, and then to my surprise had not been able to in Nederland, either. (Nederland has a surprisingly good backpacking store at the Ace hardware.) Long story short-ended up with a full-sized can of Chef Boy-ar-Dee Ravioli for dinner. This is not the way I do things, and I was apalled at the idea of lugging a full can of food, and the mess it would make. But it seemed the simplest at the time barring alternatives, and that was that.
So, the next morning (early) my dad gives me a ride from our cabin up to the Rainbow Lakes trailhead over on the East side of the mountains. The forest road to that campground is fairly rough, but Dad's a trooper and doesn't complain. I pull out my Swiss Army knife (Super Tinker model) once during the trip to point out how important it is now that I need a can opener for my yucky dinner.
Dad let me out and I hefted my pack onto my shoulders and started up the trail. It begins in a wooded area, but then rises up and out of the timberline and follows an east-west ridge which is the southern wall of the drainage below the Arapaho glacier. Everything within the drainage is technically part of the Boulder municipal water system, and numerous signs warn of dire consequences to trespassers.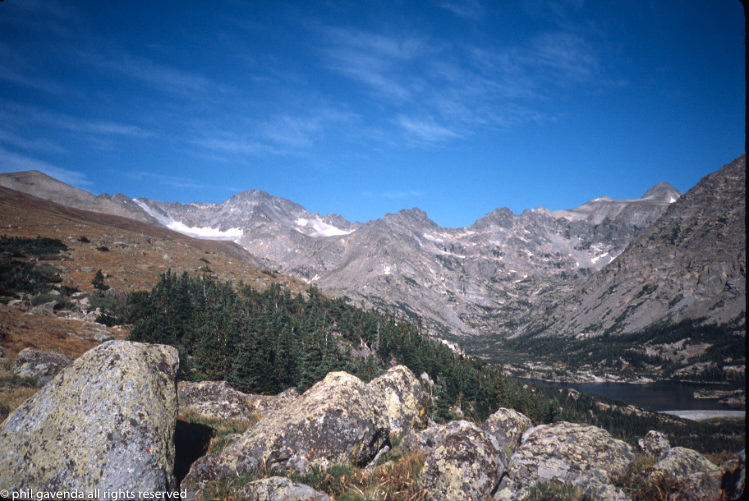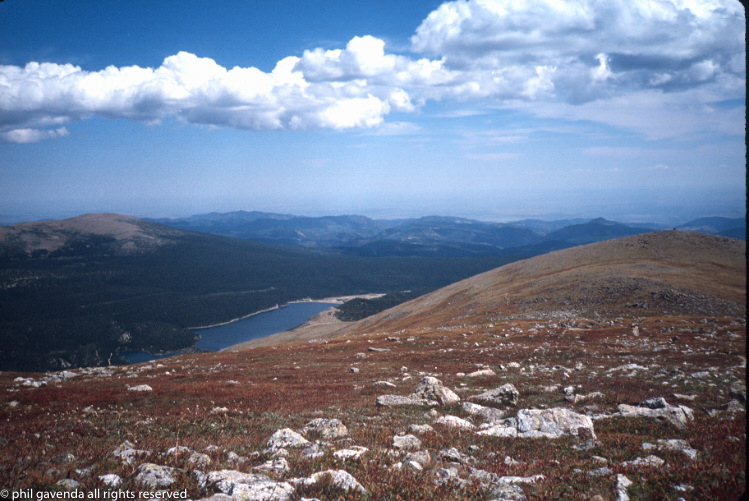 After reaching the saddle at the point where the trail leads straight up to the South Arapaho Peak summit, I took a break and decided to not spend the time lugging a pack up there (or leaving it behind for the destructive marmots) and decided to look for a camping spot. Also, rain showers had started and I kind of wanted to get off the highest most exposed ridges.
I started exploring down off the south side of the ridge; it was tundra-ish and relatively flat in many areas, except for a couple of couloirs. I got hit by a couple of thundershowers and decided to make an early supper there in the rocks. I set up my cheap (and heavy) tarp, and got my stove out and my can of Chef Boyardee ravioli. I looked for my knife, which had a can opener. Not in my pocket. Hmm, I thought. I checked all my pockets, then all my jacket and raingear pockets. No dice. I checked my pack, searched around the area where I was sitting; rechecked all my pockets again. No knife.
Not having a lot of alternatives, I determined to get that can open. I pounded it with rocks, tried using a tent stake, and finally, using a few well-placed (but not always) blows with my hiking pole I got a big enough hole in the top to get most of the contents out and into the pot. Some of the contents spattered onto the rocks.
After my exhausting and somewhat frustrating mountain dinner, I packed up and decided to find a suitable spot to throw my sleeping bag down (I wasn't using a tent.)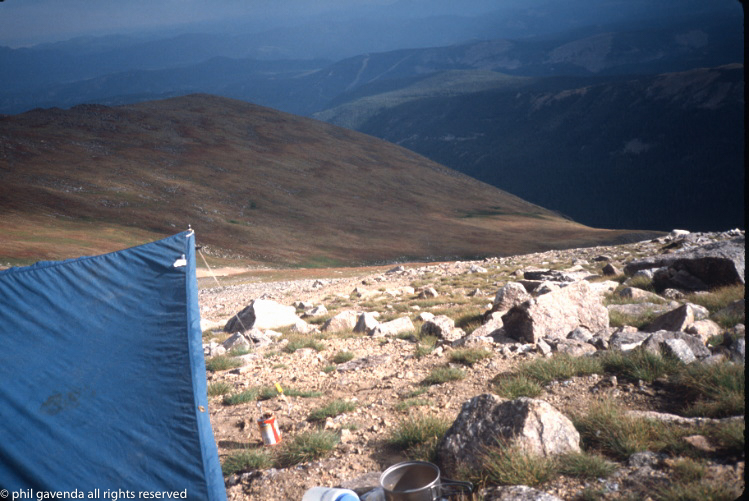 I was going to search a few hundred yards further southeast, where I suspected I'd find good camp sites. I decided to leave my cook pot there at the dinner spot as I wouldn't need it until breakfast and I had a slight concern about night critters, bears and such. I left the pot under a heavy rock. As an afterthought I recorded the gps location (with my dad's ancient gps unit) even though I felt it would be a simple matter to find it the next day.
I chose a spot on a little finger of plateau, level and with fantastic views of the mountains to the west and southwest. I watched thunderstorms roil across the way, with sunlight spearing out of the clouds occasionally and striking the landscape. I got rained on, but never too heavy. I set up the tarp over my bag/bivy combination. The tarp setup proved only moderately successful; I learned that bringing a tarp is not the same as actually knowing how best to fasten it so it stays in a manageable and useful shape.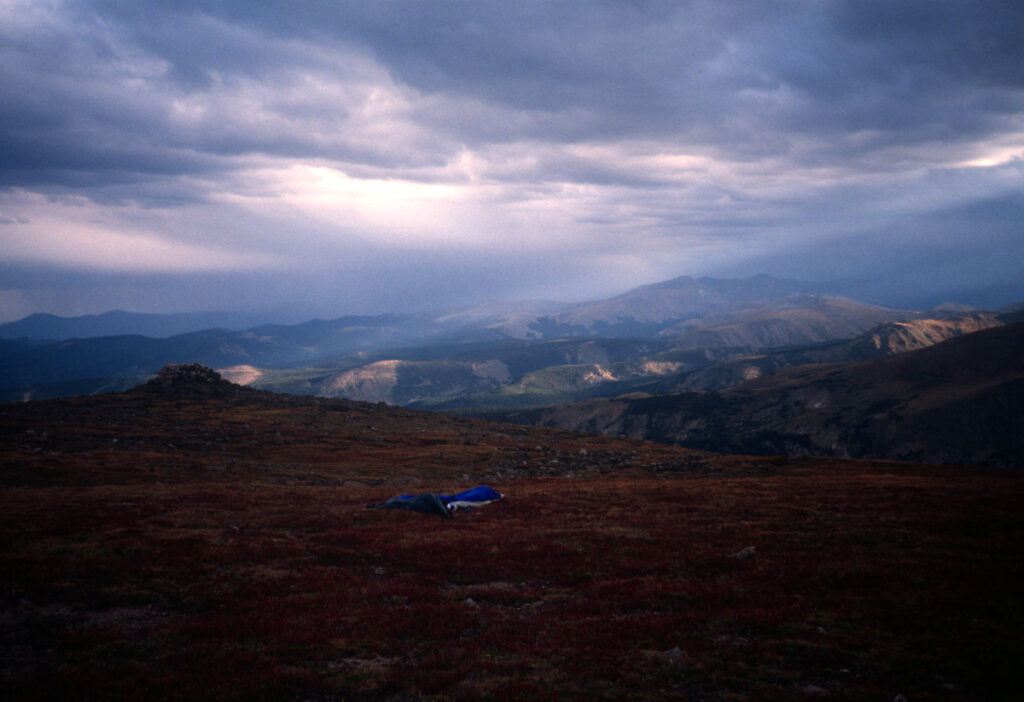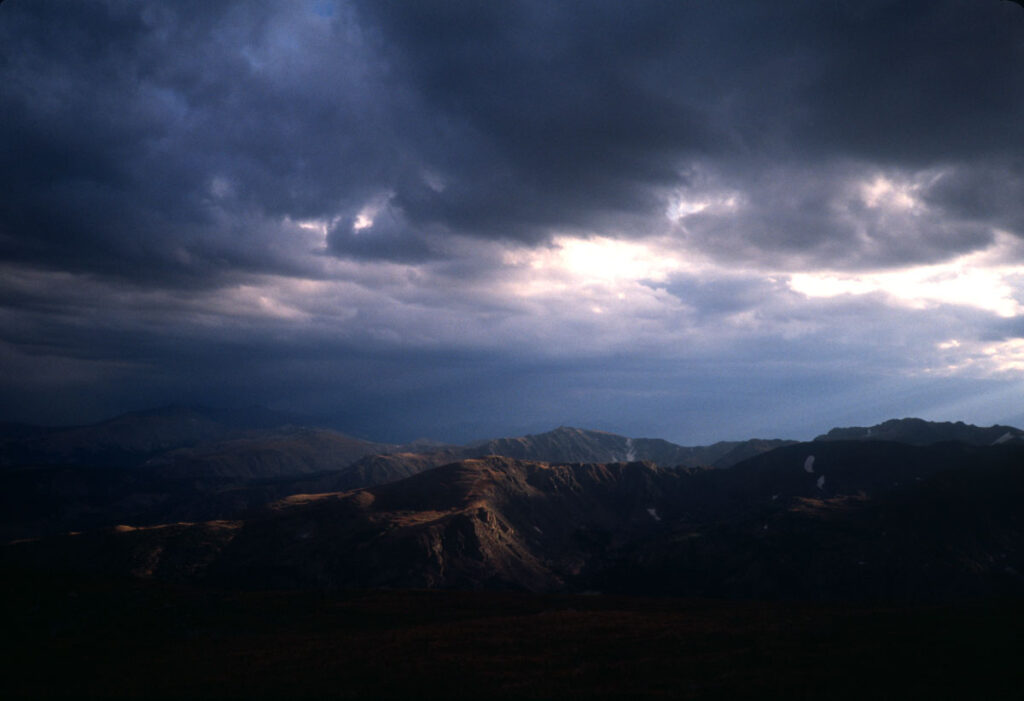 It was late summer, so sunset was late. Darkness fell in fits and spurts and between the heavy overcast of thunder clouds and the bright city-glow of nearby Boulder it never really got pitch dark.
In one of the couloirs near me, about two hundred yards closer to South Arapaho Peak, was a permanent icefield. A steady stream of meltwater dripped down its center (it's where I'd gotten my drinking water). As I drifted off to sleep, I was startled awake by what seemed to be a line of animals coming up the ice way. Deer? Elk? Uncertainty, sleep-fog, and darkness-caused myopia left it up to my imagination to figure out what was coming up the slope. But sleep won out over all.
I don't remember much about the hike down, except for one thing. I couldn't find my cook pot. Nope. Not even with the gps coordinates, which, given that it was 2000, were likely only accurate to within 100′ or so. Still, I kicked over rocks for an hour before giving up.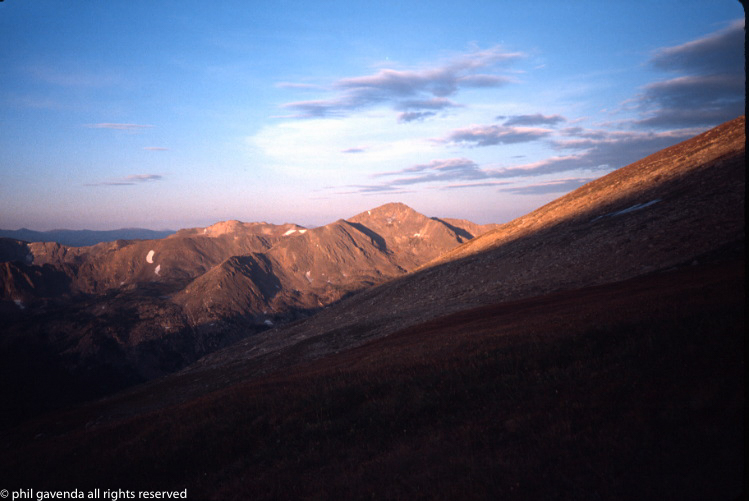 The rest of the return trip was straightforward; the hike down the shoulder of the Arapaho Peaks to 4th of July mine–a place I know pretty well. Thence down the trail to the trailhead, and my truck. I hopped in and made my way back down to the cabin.
A few hours later my parents returned to the cabin after having done some hiking of their own. Dad looked at me and said, "Did you need this?" and held up my swiss army knife, Super Tinker model. "I found it on the floorboard of the truck when I got back to the cabin."