August 31, 2002 Upper Sally Keyes Lake 36º-63º @VLC
37.27506, -118.87703
<- previous day | following day ->
Commenced this morning at 8:10; got to Muir Trial Ranch by 11:30 after a rather steep descent. I could feel the warm humidity of the lower elevation. We opened the gate and went into the ranch. I'd read several times about the protocol here; sit down at the picnic table and the dog will bark, and they will come and find you. Well, basically that's what happened, although it took a while. A rather elderly woman came and took me to a brick outbuilding which held dozens of five gallon buckets such as the one I'd shipped. I found mine easily enough, signed for it. I gave the woman a couple of rolls of film and some postcards to mail, which she said she would. She was surprised I had my own postcards.
Todd and I sat down at the picnic table to delve into my goodies; I had shipped way too much, but I knew that. Regretfully, I left the fifth of rum in the bucket. There was a can of chicken breast meat; and some of the tortillas had gone a bit green around the edges, so at Todd's suggestion we ate a form of chicken fajitas right then. We also shoveled down as many Oreos and Fig Newtons as we could. I repacked my dehydrated food, my Milkman, and some other things, but realized I couldn't hold all the Power Bars. I also replenished my homemade jerky supply. Sadly, I left a lot of goodies in the trash.
After about a half hour, Tim and Cheryl came in to get their resupply. I forced Oreos and Fig Newtons upon them; they stayed behind as we left. I realized we'd probably never see them again as they had plans to exit the trail in a couple of days.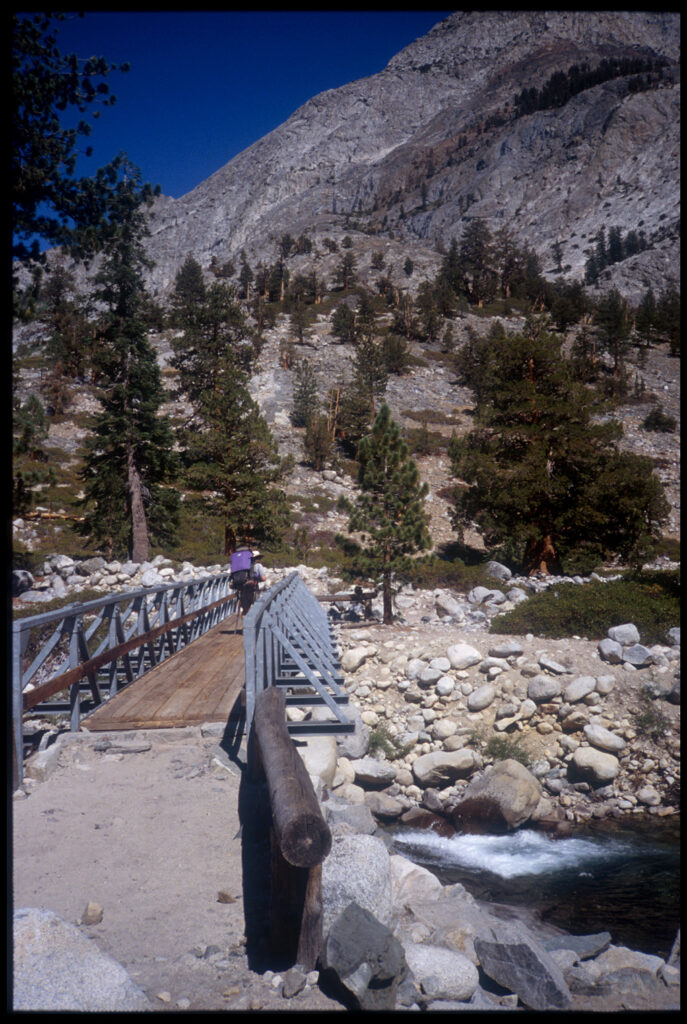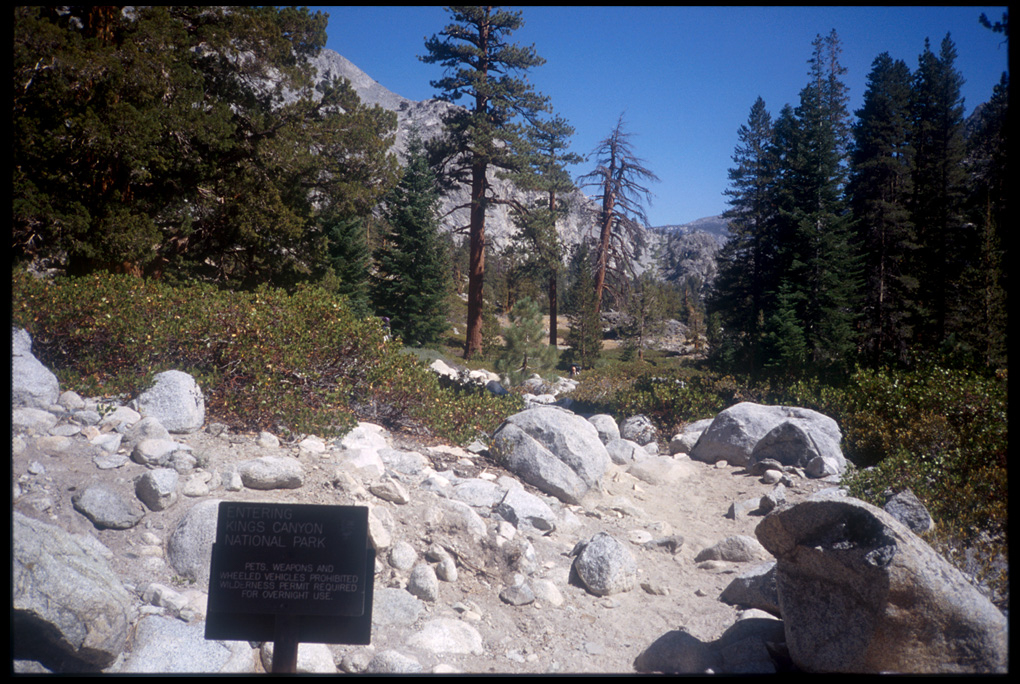 I don't remember too much about the next couple of miles. I do recall that my pack was now much heavier with ten more days of food stuffed into it. Finally, we got to the backcountry entrance to Kings Canyon National Park, where there was a large bridge over the rushing San Joaquin River (actually Piute Creek). As we took a break there, we met a group coming out of the park. One of them made a comment about the handgun he'd been hiding. Whatever.
The rest of the day's hike was following the trail up the San Joaquin River valley; nice and steady uphill but a bit strenuous because of the additional pack weight (two more photos) . As we crossed the river in Franklin Meadows, a woman stopped there asked me some questions about the trail. As I pulled out my map to indicate to her what I was talking about, she said, "Ooh, a map. We need to get one of those." I gave her and her male friend some directional advice, wondered to myself how long it would be before they were completely lost, and went on about my business. Later, around 5:15, we'd reached the point where the trail ascended steeply into Evolution Valley. Todd was anxious to see Evolution Valley, as was I, but I was too beat. The additional weight had really taken a toll on me; we camped near the trail.