It's been quite a while since my first climb up Texas' highest point, Guadalupe Peak (8,751′ now, was listed at 8,749′ then). I don't have any notes from that hike; just fuzzy memories and some fuzzier photos from an old point & shoot Nikon I used to borrow from my dad.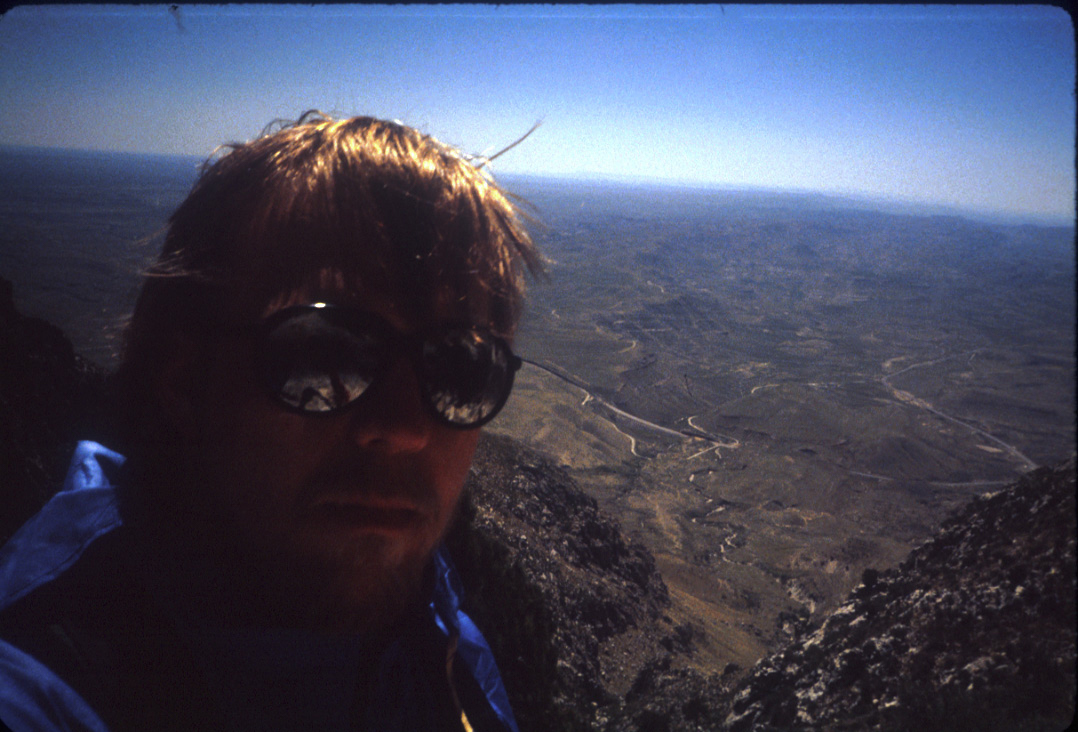 I was twenty-six years old, still in the middle of my offshore oilfield career. I had read the old "Trails of the Guadalupes" guide, published by the Carlsbad Caverns Natural History Association, backwards and forwards while working on out in the Gulf of Mexico and had decided I needed to go see Guadalupe Mountains National Park (GUMO) and climb the highest mountain in Texas.
I went to Big Bend National Park first, then on to GUMO arriving very early in the morning of the 22nd of April, 1985. I don't even think I camped there that week; I may have stayed in the parking lot of the rest area up the road a few miles the first night, then possibly a motel in Carlsbad. I hiked McKittrick Canyon that first day, then I think overnight in Carlsbad and Guadalupe Peak the second day.
There wasn't any visitor center back then; just an old galvanized metal shed at Frijole. Don't recall if I stopped there or not.
I started reasonably early that morning I think. The weather was sunny, windy and chilly. The wind really began to howl and push me around as I ascended up the trail the first mile or two, especially the part where it is blasted right out of the solid limestone cliff. I remember feeling a bit apprehensive and unsteady as the wind really was moving me around as I made a switchback which put me on the opposite side of the cliff and suddenly the wind was gone.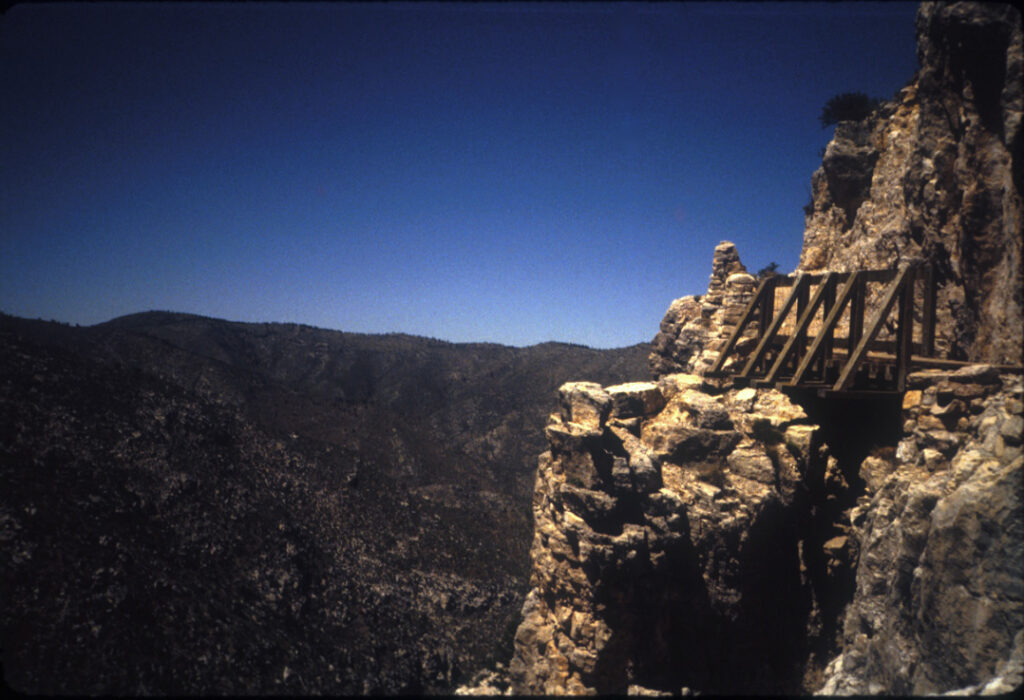 There's a conveniently situated boulder not far past that mini-pass, a nice place for a brief respite. The trail then leads through a forest of tall conifers which may be a surprise to those who didn't expect it. Some years remnants of winter snows may linger for months as packed snow and ice here on the north-facing slope, but there was none on this trip.
The trail emerges from the forest, and over the last mile or so one passes a couple of spots which may excite the acrophobic folks, one with a bit of exposure and one little wooden bridge to cross; and then the designated backcountry campsite turnoff.
Finally, I saw the horse hitching posts just below the summit, and then I was on top of the peak; actually a large flat summit area. I enjoyed the wonderful views in all directions, somewhat interrupted by Hunter (8,368′) and Shumard (8,615′) peaks to the Northeast and North, respectively. I was alone for a while, then another young man arrived; we took each others pictures on the summit.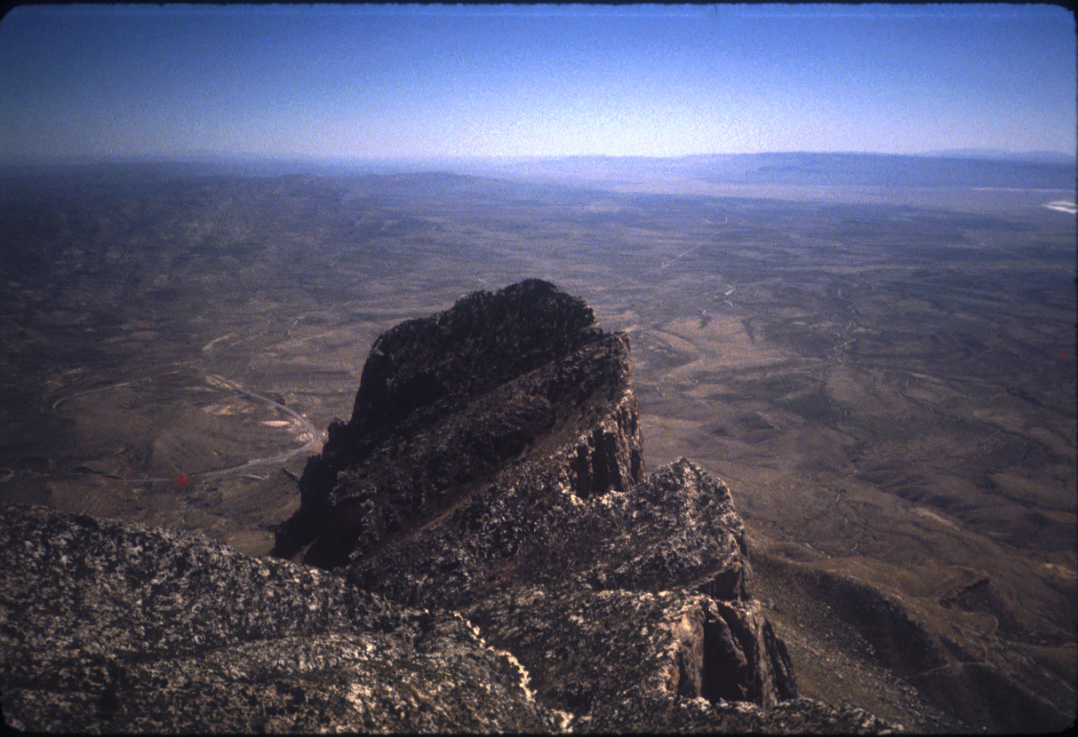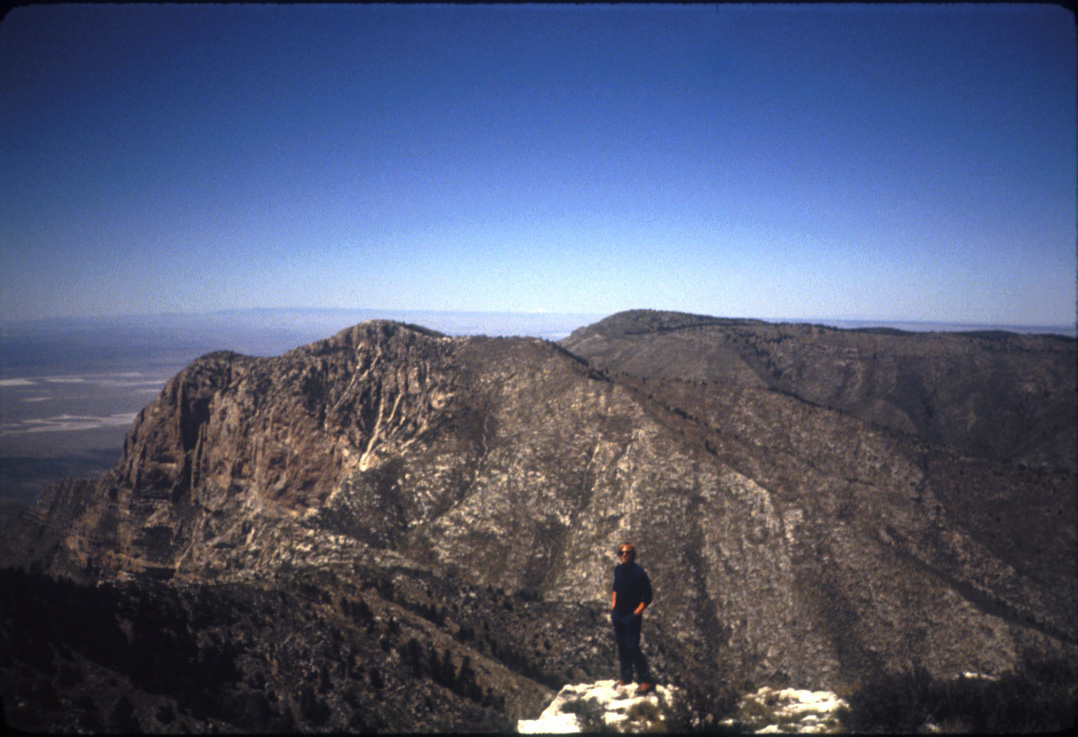 Since this trip report is from memory and not from written notes I can't say anything about the return hike other than it wasn't memorable.
One thing about the summit of Guadalupe Peak I didn't realize at the time has to do with the view, and it took me years (maybe after my 1997 summit hike?) to figure it out. The vast majority of hikers, including me, will do this hike starting in the morning, arriving at the summit a couple of hours either side of noon, then returning. As any photographer knows, the noon hours are the worst for shooting landscape, as the colors wash out and there is little shadow relief to highlight terrain. This would lead me to do an overnight to the summit fifteen years later (in February 2000) and I would be rewarded for my patience.