<- previous day | following day ->
Civilization, briefly
Left Rosalie Lake around 8:00 a.m. After a slight ascent, the trail was all downhill to Red's Meadow. Very dusty. In fact, dusty in a choking, sticky messy way. But anyway, I reached Devil's Postpile National Monument at around 11:15 a.m. A ranger was giving a talk on the trail right at the postpile as I walked up. I felt a little conspicuous, as the crowd was obviously mostly folks who had driven in. (I later found out that very day was "National Park Day.") I tried to snap a picture of the marten the ranger was pointing at as I arrived.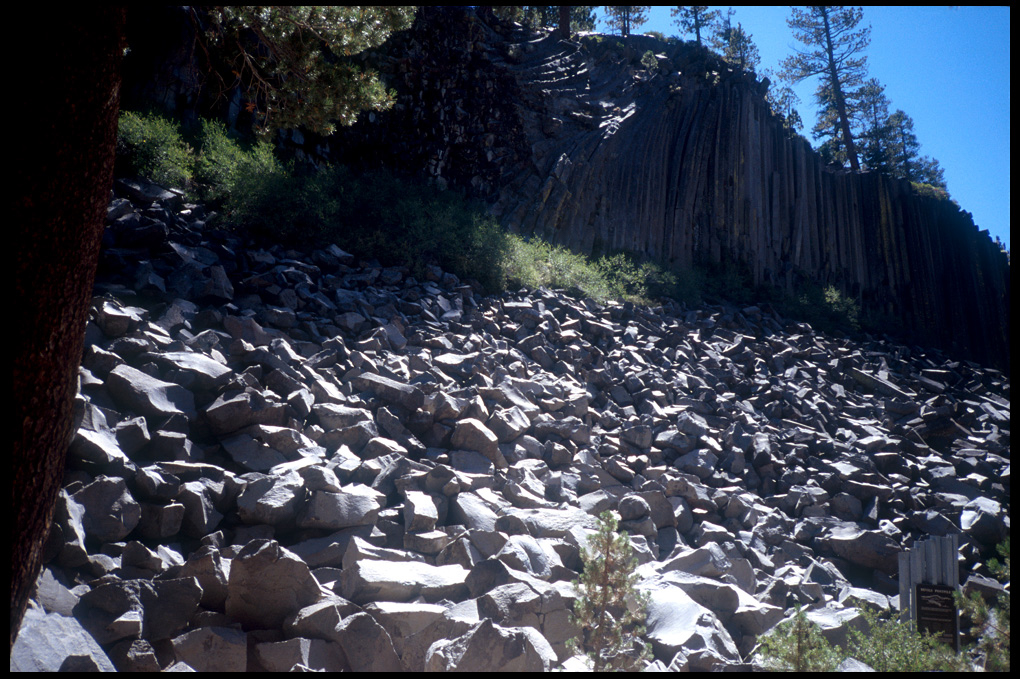 I self-conciously felt the crowd regarding me as the old stinky, dirty, mountain man type as I walked by the families with kids spilling ice cream over their t-shirts. I left the ranger talk behind, walked around the postpile for a while (an interesting site), then found the way to Red's Meadow, the main campground there. There are few instructions on how to get to the campground if you approach from the backcountry side as I did, but I finally found the campground and the backpacker's campground within it. The backpackers' site was empty, so I staked out a place, reserved it, and found my way to the natural hot spring showers, about a hundred yards up the road. Now,those who are used to city-fied showers and such may turn their noses up, but these half-dozen closets, each with a simple tap and overhead outlet, are each sublime to those of us who come out of the backcountry. The water is not only hot, but almost too hot. It was excellent. I came out of the shower and went back to my campsite practically oblivious to anything for an hour or so.
After a rest, I set up my primitive campsite (sleeping bag and bivy sack) and began working my way over to the store and cafe. As I walked down the paved road from the campground, I saw a man hiking up the road; obviously a backpacker. He stopped to look at the campground map, and I pointed the backpacker's campsite and hot spring showers out to him. I finally found my way to the store, and bought the usual chocolate milk and potato chips. Next, I went to the cafe next door and had an excellent cheeseburger. I called my folks and left them a message indicating my survival up to this point, and I also did some laundry in a washing machine there. Before heading back to the campsite I "reserved" a steak for the evening meal.
Back at the campsite I met Todd (the guy walking in when I was leaving) and a couple, Tim and Cheryl who had already set up their campsite. We talked a while, swapped stories and shared advice. Tim came back from the store with a full can of Coleman fuel he couldn't use, so we split that among ourselves. A bit later, we ate supper back at the cafe. The steak was very bad. Most disappointing. Afterwards, as we were sitting on stumps between the cafe and the store, a horse pack train passed us coming in from the backcountry. Tim mentioned quite loudly and humorously that perhaps the wrangler ought to count his horses in light of the toughness of the "steak" we had just consumed.
Back at camp, another pair had set up. Actually, as there were only three sites available we had to share, but it was no big deal. Dan and Dale were doing the Sierra High Route, a route roughly parallel to the JMT but off-trail and even higher in the mountains.
We all had a few beers as it got dark, and shared stories and complaints. Although I was feeling pretty strong generally, my feet had been fairly well chewed up, and the half day off would do them a world of good. I fell asleep trying to ignore the cacophony of car campers with families that I had thankfully not been around for a week.