<- previous day | following day ->
I had figured it would be 14.9 miles if I wanted to make Red's Meadow today, and I really knew I wouldn't make it. So I had spent a good deal of time with the guide book and map figuring out potential campsites without significant bear problems. The series of high alpine lakes I was about to travel through had a reputation of being popular with both humans and bears. I was still somewhat naive regarding the Sierra Nevada, but soon learned that the proximity to campgrounds and trail heads around Mammoth led to huge numbers of people, and the other megafauna associated with people—horses, bears, etc..
Anyway, I didn't see anybody on the trail for the first few hours, but when I began to approach Thousand Island Lake, I began to run into people. But to be perfectly honest with you, I'm not sure I recall correctly the stretch of the trail around Thousand Island Lake. I don't recollect properly (even with photographic assistance) details of that stretch of the trail. I do recall a couple camping near there, illegally close to the trail, with a dog, a barking dog. He lunges, but I survive.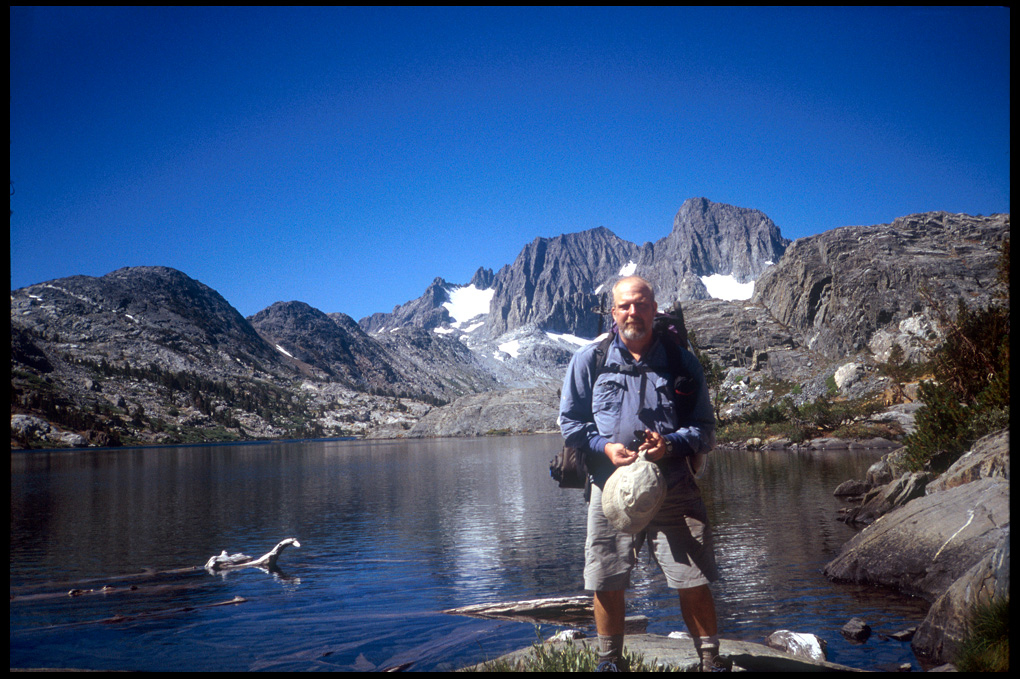 Next, I'm winding my way down toward Garnet Lake. I wend around the north side, then get to the bridge. I stop there to refill my water, amongst the deadwood, and as I'm doing so some chattering hikers (looked like an extended family) come up and insist on my taking a picture of them, so I insist on them taking a picture of me.
Ascending from Garnet Lake, I felt a bit of stomach distress; I worried it might be the start of something more sinister, but it would never bother me again on the trip.
The trail ascends to an unnamed pass, then descends fairly steeply into the Shadow Creek drainage. It seems pretty steep to me, and especially full of loose and unstable rock. It seems as though this descent goes on and on forever, passing through timberline, then into a dry and dusty trail in the woods. It also seems to get pretty warm, and I'm working up a sweat. The lower I go, the dustier the trail gets, and I began to run into more and more people, including a pack train or two. I realize I'm getting close to Agnew Meadows, a popular summertime camping area complete with horse corrals, and it is in fact a weekend, so the crowds should not be unexpected. Still, I get a bit concerned over the number of folks on the trail (for no good reason, as it turns out).
Continue reading

JMT Day 5